MediaTek's mission is to enrich and enhance everyone's life; however, as the communication technology advances, there are still billions of people have yet experienced the advantages brought about by the technology innovation. Thus, through putting the 3A strategy- Accessibility, Affordability and Availability, into practice, we assist the public in the control of technology innovation with a hope that everyone can enefit from the opportunities of technology and achieve better living.
In 2021, MediaTek once again integrated its innovative technologies in its 5G highest-end mobile platform - Dimensity 9000 that will provide the best-ever user experience of communication and multimedia on mobile. In addition, the Pentonic smart TV platform aims to provide users all new experience of living room entertainment with its integrated technologies of display, audio, AI, broadcast standards and high-speed connectivity.




| IC green innovation
Since MediaTek's chipsets power a variety of end devices, environmental considerations are included at the IC design stage. We aim to reduce the impact of climate changes during usage and disposal by minimizing power consumption and the physical size. We hope to continue improving capability in eco-friendly chip design thereby reducing our impact on the environment.


Usage

Enhancement of energy efficiency:

Using the 2016 value as the baseline, we have lowered 23% of power consumption of major products in 2021 compared to 2020. Based on the shipment volume of 2021, MediaTek contributed to the energy conservation of devices powered by our products by 667 million kWh of electricity per year, 334,834 tons of carbon dioxide emissions, equivalent to the amount of fixed carbon of 396,254 acres of US forests in a year,, or 91,974 average American households in one year.
Note: Basis of calculation:

Referred to the National Wetland Carbon Sequestration Surveys and Analysis Plan issued by Urban and Rural Development Branch, Construction and Planning Agency, Ministry of the Interior (Daan Forest Park absorbs approximately 386 tons of carbon dioxide emissions annually) and public data from Taiwan Power Company (the average annual household power consumption is 326kWh)
Disposal

Minimization of chip designs:

Using the 2016 value as the baseline, we have reduced the size of major products by 23% in 2021 compared to 2020, equivalent to 81,070 kg of waste reduction, or 167 tons carbon emissions reduction. Furthermore, the Company is firmly committed to its HSF (Hazardous Substance Free) policy for the whole supply chain, adoption of green and eco-friendly design concepts from the source covering the whole product life cycle, and requested implementation of green innovation by suppliers.
Note1:

Conversion based on the parameters set by the Environmental Protection Administration of Taiwan, where 1kg of waste production increases 2.06kg of carbon emission.
Note 2:

Please refer to 5.1.1 Responsible Supply Chain Management and Procurement mechanism for details on supplier management mechanisms.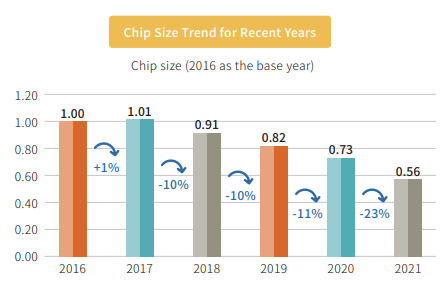 To learn more about MediaTek's innovation achievements, please see p.30-32 of the report.