▌Our Commitments and Policies
Building of stable partnerships characterized by mutual trust and joint growth with suppliers and establishment of sustainable business models. Supplier screening is carried out based on ESG criteria to confirm that suppliers have relevant management systems and organizational structures in place. Annual on-site/written audits are conducted and relevant training courses or improvement meetings are scheduled. In addition, supplier conferences are organized to recognize and encourage outstanding suppliers.
▌Our Goals
Short-term

◢ Reduction targets jointly set in the supply chain:to decrease carbon emission intensity by more than 2% per year.

Mid- and longterm

◢

To achieve the net zero emission target by 2050


◢

To reduce 25% of GHG emissions in Supply Chain Scope 1 and Scope 2 (Scope 3 of MediaTek) by 2030 (compared to 2020)


◢

Maximization of the Company's influence on its suppliers, carrying out of GHG emission inventories, and adoption of management measures for the supply chain in response to domestic and international eco-friendly initiatives in the field of environmental protection and carbon reduction.


◢

Creation of an IC industry climate risk database, identification of risks and opportunities, and assumption of an industry leadership role in the setting of climate strategy directions.
▌Achievements
Code of Conduct

◢

All of the suppliers of the Company have signed the Supplier Code of Conduct (the signing rate has increased by 7% over the previous year) .
Annual and New Supplier Sustainability Risk Assessment Criteria

◢

Overall achievement rate certificate acquisition rate of the supply chain:
- 100% in the economic dimension
- 98% in the environmental dimension
- 97% in the social dimension.
Key Supplier Sustainability Scoring Standards

◢

In 2022, the company audited all key suppliers on site and carried out counseling and communication.
Key material risk management

◢

Conflict Minerals: 100% adoption of RMI (Responsible Minerals Initiative)- approved smelters.


◢

Local Procurement: Locally produced raw materials and local suppliers both reached 85% of all procurements.
MediaTek Influence

◢

The Company organized responsible supply chain forums. Through trend sharing and experience exchange, we responded to climate change-related risks proactively, enhanced environmental sustainability awareness along with our partners in the supply chain.


◢

In addition to the commitment of reducing carbon intensity by more than 2% per year, we are also steadily progressing toward the goal of reducing 25% of scope 3's GHG emission in 2030 (compared to 2020), fulfilling our promise to be NZE by 2050.


◢

We promoted key suppliers' sustainable actions through the rating of their corporate responsibility, and the award for the best sustainable partner was given to suppliers based on their scores. We encouraged partners in our supply chain to value sustainable actions and commitments, , learn from each other and continuously refine their action plans and projects, thus jointly moving forward as a sustainable value chain.
<>br>
▌Responsible Supply Chain Management and Procurement Mechanism


With the vision of building a sustainable business model, MediaTek has developed a responsible supply chain management mechanism by integrating relevant standards and initiatives in three major areas: economy, society and environment. By using ESG risk assessment criteria and corporate sustainability scoring criteria for suppliers, respective management is conducted for all suppliers/key suppliers. New suppliers are required to pass the ESG risk assessment before they can be included as a counterparty for procurement. For qualified suppliers, MediaTek will continuously track their ESG risks to ensure that the suppliers follow the management rules and standards. In addition, through annual audits, online learning platforms, supplier conferences and supplier forums, MediaTek continues to exert its influence as a leader in the industry and build a sustainable business model together with its partners in the value chain.
● Supplier Code of Conduct - Achievement in 2022:

100% signing rate
In 2015, MediaTek officially incorporated principles and initiatives such as the RBA Code of Conduct, International Labor Oce Tripartite Declaration of Principles, and the UN Universal Declaration of Human Rights into its Supplier Code of Conduct. All suppliers are required to take positive action and comply with this code.
For detailed information, please refer to Supplier Code of Conduct.

● Annual and New Supplier Sustainability Risk Assessment Criteria
The scope of issues of concern to global customers and the general public has gradually expanded from price, quality, and service standards to social and environmental laws and standards and legal responsibilities in respective nations. MediaTek has therefore reorganized its supplier evaluation standards in the economic, social, and environmental dimensions. The Company monitors its supply chain to confirm compliance and stepping up of efforts in the field of sustainable development involving corporate governance, energy conservation and carbon reduction, green manufacturing, employee care, and expanded social engagement.
The ultimate goal lies in the prevention of risks that harm stakeholder interests including improper management resulting in environmental pollution, product quality aberrations, and production capacity and manpower shortages at any link of the supply chain. Such risks cause shipping irregularities, rising costs, dropping revenues, and thereby negatively affect the reputation, image, and competitiveness of MediaTek. MediaTek requires all new suppliers to meet this assessment criteria. For existing suppliers, we also continuously track and evaluate their suitability based on this criteria every year.
● Supplier ESG Risk Assessment system
Those who pass the risk assessment ( ≧ 60 points) will be classified as priority suppliers, and the others will be classified as high-risk suppliers. If a supplier improves its compliance with ESG standards during the follow-up period, it may be included as a counterparty for procurement; for those who do not make improvement, if they still fail to meet the criteria after counseling or assistance, their transaction volume will be reduced or terminated.

● 2022 Supplier Evaluation Results -

All suppliers conform to the ESG evaluation standards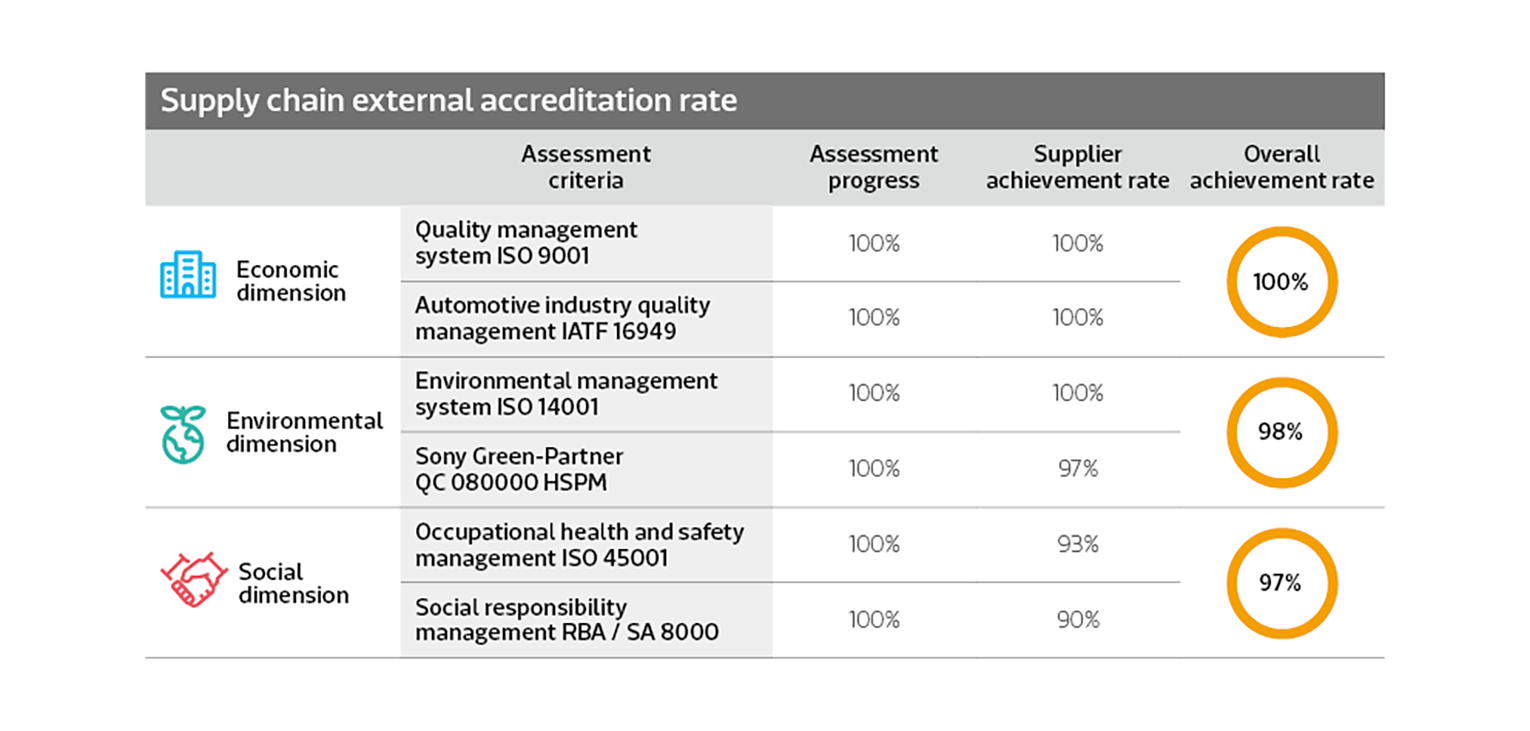 ● Key Supplier Management
To strengthen the effectiveness of supplier management, MediaTek established a supplier corporate sustainability scoring criteria. For key suppliers, namely suppliers that have a significant impact on the quality of MediaTek's products and production schedules, or suppliers from whom the Company's purchase amount and proportion reach the threshold of materiality, we conduct key management in order to improve the quality and stability of procurement and control operational risks.